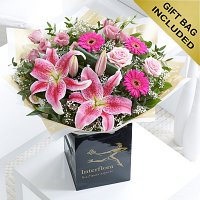 Delivering flowers Taunton Wellington & Through Out The UK : Same Day : Locally : Nationally : Worldwide.
Same Day Delivery

Same day delivery is available to UK & ROI. But The Orders Have To Be Placed
Before: 1pm, Monday to Friday
Before: 11.00am Saturday
Internet Delivery Cost
Same Day Delivery Charge : £8.99
Next Day Delivery Charge : £6.99 (Standard Delivery)

What if the recipient is not at home?

The van driver will try the house the flowers are to be delivered to and when recipient is not at home and if no one is there they will leave it with a neighbour next door or opposite leaving a card through the door saying where flowers are left,

Flowers Delivered: If there are no neighbours to take the flowers in then the flowers or gift are brought back to the shop and a card is put through the recipients door and saying please can they phone us to arrange a fresh delivery of the flowers for when they will be home.

Please do not hesitate to freephone our helpful experienced staff to place or help with your International delivery, Due to time differences in some countries same-day delivery may not be possible.
Sunday / Public Holidays Deliveries
Judith Goss Florists do not work/open on Sundays or Bank Holidays and suggest a Saturday or a day before delivery when the occasion falls on a Sunday or Bank Holiday.
Same day flower delivery
Should you be the type of individual who usually likes to leave things to the last minute - or alternatively simply has a memory like a sieve - it might be worth remembering that same day flower delivery is available from Monday to Saturday with our unique delivery service.
Many of the big events in life such as birthdays, anniversaries or weddings can be planned weeks in advance. However there are some occasions where you simply can't predict the future. Perhaps you hear that a friend or relative has just given birth and you want to send a stunning baby gift to celebrate the joyous occasion of the new arrival. Or a bouquet of Lilies might be the perfect way to say thank you to a friend or relative who has gone out of their way to help you.
More often than not we forget to show someone just how much they mean to us and finding the words makes it ever more difficult. The spontaneous delivery of Roses, chocolates or Champagne may be the perfect romantic gesture they deserve. Or it may also be that someone needs cheering up after suffering a setback and sending some same day flowers is the perfect token of sympathy.
Sending a bouquet of flowers can be an excellent way of brightening up someone's day - and can act as a colourful reminder of your enduring sentiment for the person you give them to, over a period of a couple weeks, or longer.
All of our same day delivery gifts are carefully prepared by our expert florists and then hand delivered with the care and sentiment they deserve.
Our unique same day flowers delivery service means that you can send beautiful flowers and gifts for all those unexpected occasions. And what's more we even have our Express flower delivery service which means that you can send flowers and gifts within 3 hours of placing your order.
We understands that more often than not there is a need to express an emotion. That's why we take great care to ensure that your gift is created with the freshest flowers and with the greatest of care.

We cover a very large area too much to list for Taunton, Wellington and surrounding Villages here are just some of the areas, ( Locally TA1 . TA2 . TA3 . TA4 . TA5. TA21 . EX15 EX16 )
Taunton Florists, Flower Delivery Taunton, Same Day Delivery
Wellington Florists, Flower Delivery Wellington, Same Day Delivery
These are Just a but few of the local villages we delivery to , Adsborough Somerset, Allerford Somerset, Angersleigh Somerset, Ash Priors Somerset, Ashill Somerset, Athelney Somerset, Badgers Green Somerset, Badgers Street Somerset, Bagley Road Somerset, Bankland Somerset, Bathealton Somerset, Bathpool Somerset, Battens Green Somerset, Beercrocombe Somerset, Bickenhall Somerset, Birchwood Somerset, Biscombe Somerset, Bishops Hull Somerset, Bishops Lydeard Somerset, Bishops Wood Somerset, Blackbrook Park Avenue Somerset, Blackbrook Park Somerset, Blackbrooke Somerset, Blackmore Somerset, Blackwater Somerset, Blagdon Hill Somerset, Blindmoor Somerset, Bradford on Tone Somerset, Brompton Ralph Somerset, Broomfield Somerset, Buckland St Mary Somerset, Burnworthy Somerset, Burrowbridge Somerset, Canonsgrove Somerset, Cavelshay Somerset, Charlton Somerset, Cheddon Fitzpaine Somerset, Chelston Somerset, Chipley Somerset, Chipstable Somerset, Chitterwell Somerset, Churchingford Somerset, Churchstanton Somerset, Clapland Somerset, Clayhidon Devon, Comeytrowe Somerset, Coombe Bottom Somerset, Coombe Florey Somerset, Coombe Somerset, Corfe Somerset, Cotford st Luke Somerset, Cothelstone Somerset, Coursley Somerset, Craddock Devon, Creech Heathfield Somerset, Creech St Michael Somerset, Croford Somerset, Crowcombe Somerset, Crowcombe Heathfield Somerset, Culmhead Somerset, Culmstock Devon, Curland Somerset, Curload Somerset, Curry Mallet Somerset, Cushuish Somerset, Cutsey Somerset, Daws Green Somerset, Deane Gate Somerset, Devon, Dommett Somerset, Duddlestone Somerset, Durston Somerset, East Combe Somerset, East Lydeard Somerset, East Lyng FSomerset, East Nynehead Somerset, Fennington Somerset, Fitzhead Somerset, Fitzroy Somerset, Fivehead Somerset, Ford Somerset, Ford Street Somerset, Fosgrove Somerset, Fulford Somerset, Fulwood Somerset, Galmington Somerset, Goosenford Somerset, Gotton Somerset, Greenham Devon, Greenham Somerset, Gunningham Somerset, Halse Somerset, Ham Somerset, Hankeridge Somerset, Hatch Beachamp Somerset, Hatch Green Somerset, Haydon Somerset, Heatherton Somerset, Heathfield Somerset, Hedging Somerset, Hele Somerset, Helland Somerset, Hemyock Devon, Henlade Somerset, Hestercombe Somerset, Higher Comeytrowe Somerset, Higher Durston Somerset, Higher Swell Somerset, Higher Vexford Somerset, Higher West Hatch Somerset, Higher Wrangway Somerset, Hillcommon Somerset, Hillfarrance Somerset, Holway GreenSomerset, Holywell Lake Somerset, Houndsmoor Somerset, Howleigh Somerset, Howstead Somerset, Huish Champflower Somerset, Huntham Somerset, Kenny Somerset, Kentisbeare Devon, Kingston St Mary Somerset, Kittisford Somerset, Knapp Somerset, Langaller Somerset, Langford Budville Somerset, Langford Somerset, Langley Cross Somerset, Langley Marsh Somerset, Lethbridge Park Somerset, Lillesdon Somerset, Listock Somerset, Lower Durston Somerset, Lower Henlade Somerset, Lower Holway Somerset, Lower Knapp Somerset, Lower Rydon Somerset, Lower Swell Somerset, Lower Vexford Somerset, Lower West Hatch Somerset, Lower Westford Somerset, Lowton Somerset, Lydeard St Lawrence Somerset, Lyng Somerset, Maidenbrook Stoford Somerset, Maundown Somerset, Meare Green Somerset, Middle Stoford Somerset, Milverton Somerset, Monkton Heathfield Somerset, Musgrove Park Hospital Somerset, Nailsbourne Somerset, Nerrols Somerset, Newtown Somerset, Nicholashayne Devon, North Curry Somerset, North Newton Somerset, North Petherton Somerset, Northway Somerset, Norton Fitzwarren Somerset, Nuffield Hospital Somerset, Nynehead Somerset, Oake Somerset, Orchard Portman Somerset, Otterford Somerset, Outwood Somerset, Overton Somerset, Payton Somerset, Pickney Somerset, Pinksmoor Somerset, Pitminster Somerset, Poleshill Somerset, Poole Somerset, Poundisford Somerset, Preston Bowyer Somerset, Priorswood Somerset, Purland Somerset, Pyleigh Somerset, Pyles Thorne Somerset, Pyrland Somerset, Red Ball Somerset, Rock Hill Somerset, Rockwell Green Somerset, Roughmoor Somerset, Rowford Somerset, Ruggin Somerset, Ruishton Somerset, Rumwell Somerset, Rumwell Park Somerset, Runnington Somerset, Rydon Somerset, Sampford Arundel Somerset, Sampford Moor Somerset, Selicks Green Somerset, Seven Ash Somerset, Sherford Somerset, Shopnoller Somerset, Shoreditch Somerset, Simonsburrow Somerset, Slough Green Somerset, Somerset, Spy Post Somerset, Stairfoot Somerset, Staple Fitzpaine Somerset, Staplegrove Somerset, Staplehay Somerset, Stapley Somerset, Stewley Somerset, Stoford Somerset, Stoke Hill Somerset, Stoke St Gregory Somerset, Stoke St Mary Somerset, Stone Gallows Somerset, Sweethay Somerset, Swell Somerset, Taunton Somerset, Terhill Somerset, Thorne St Margaret Somerset, Thornfalcon Somerset, Thurlbear Somerset, Thurloxton Somerset, Tolland Somerset, Tonedale Somerset, Toulton Somerset, Trebles HolfordSomerset, Triscombe Somerset, Trull Somerset, Tuckerton Somerset, Uffculme Devon, Upper Cheddon Somerset, Voxmoor Somerset, Walford Cross Somerset, Waterrow Somerset, Weekmoor Somerset, Wellington Somerset, Wellington, Wellisford Somerset, West Bagborough Somerset, West Buckland Somerset, West Hatch Somerset, West Lyng Somerset, West Monkton Somerset, West Newton Somerset, Westford Somerset, Westwood Somerset, Whitefields Somerset, Willand Somerset, Willett Somerset, Wiveliscombe Somerset, Wood Somerset, Wrangway Somerset, Wrantage Somerset, Yarford Somerset

and lots more places locally Please take a look at our home page