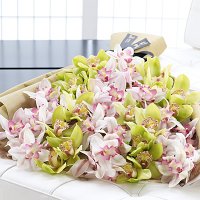 Judith goss florists has been a successful and established family firm in somerset for over 50 years. We provide in-house training to our staff to ensure our reputation for quality, reliability and high standards of service, And this reputation ensures that we can make your shopping or ordering experience a pleasant one.

We pride ourselves on the very high standard of our work; all arrangements and bouquets are hand-made by our qualified and experienced florists. This means that we can offer perfect quality, designer products and a same-day delivery service to be proud of — and that you receive an assured level of service.
We specialise in beautiful and stunning flower arrangements for every occasion — from a new-born baby to a funeral tribute. We are here, whatever life throws at you, we are able to express and deliver your feelings to the people you care about.
It is the level of our service in all aspects of floristry — design, high-quality, prompt delivery, customer and recipient care — that has led, and made, Judith Goss Florists Taunton in somerset to be so successful in pleasing their clients!
Our experienced florists are trained to deal in Traditional, Modern, Continental or Country styles for all your floristry needs; we can usually make anything to your specific design from the run-of-the-mill to exotic, or oriental speciality blooms and plants.
We stock a wide range of fresh flowers and pride ourselves on delivering the freshest flowers available. That's why you'll usually find some of our flowers are delivered whilst they're still in bud and just ready to bloom so you can enjoy them at their best for many days to come
Here are just some of the things we do and offer!
… and we are licensed to sell Champagne and Red and White Wines for that special occasion !
So whenever you need to place an order with us, you can do so with confidence…
All major debt and credit cards accepted
secure online florists
Also we Accept PayPal